Kirjeldus
DESCRIPTION
The Nordic Track RW 900 is modern and one of the best choices for an ideal cardio workout, and the iFit training platform will expand your options. With the iFIT Coach Plus interactive training platform combined with these simulators, you can travel the world without leaving your home. Interactive workouts based on your sleep, diet and activity habits, automatic statistics tracking and many more!
iFit coach: unlimited possibilities with the iFit training platform (you get an additional 12 months of iFit COACH family membership (value 350 EUR)
• Adjustable console angle
• Free inertia flywheel
• Adjustable air resistance 10 levels
• 26 SMR quiet magnetic resistance levels;
• Ergonomics)
• Increased pedals with adjustable straps
• Soft Touch ergonomic handle
• Front-mounted transport castors
• Foldable: Space Saver Design
• 22-inch Full Color Capacitive touch screen
• iPod compatible sound (2 "speakers") )
• Screen readings: watts, rhombuses per minute, total rhythm, time, calories, distance, 500M distance.
• 130 kg Maximum user weight
Ostes jooksulindi NordicTrack S 40, saate lisaks kaasa iFit virtuaalse treeningpaketi aastaks (5 kasutajat).
With iFit ®, you can choose Google Maps ™ workout routes, personal workouts with the world's best coaches, or interactive workouts to your liking. You can read more about iFit ® here

A full body workout just at home!
Create a personal workout with the NordicTrack RW 900 rowing machine or choose workouts created by coaches from famous worlds without leaving home. This is a great exercise machine that stands out with its 22 "touch screen. The rowing machine repeats the rowing movements, during which the whole body works – legs, back, arms. This is a great choice for those who want to have one exercise machine for full body workouts. Due to its features and functionality, NordicTrack RW 900 will make your workout not only useful but also enjoyable.
Universal trainer for whole body training
Touch screen 22 " Smart HD
Unlimited number of workout programs with iFIT ®
An iFit ® training platform is included
Inertial flywheel
Magnetic resistance 26 levels, air adjustable resistance 10 levels
Inertial flywheel
Ergonomic seat
Footrest with adjustable strap
SpaceSaver ® folding frame
Transport castors
Two speakers
Functional touch screen
Even the 22 "touch HD screen ensures unique impressions and sensations while training in any corner of the world with the most famous personal trainers. Large and comfortable screens are one of the exclusive features of the simulator, which are constantly improved by the manufacturer. Their goal is to make consumers feel comfortable while playing sports. With Google Maps or iFit ® Coach video workouts, you'll travel the world without leaving your home. We promise that your workouts won't really come off, because with iFit ® software, you can replace your usual boring running workouts with dynamic, effective and super motivating ones!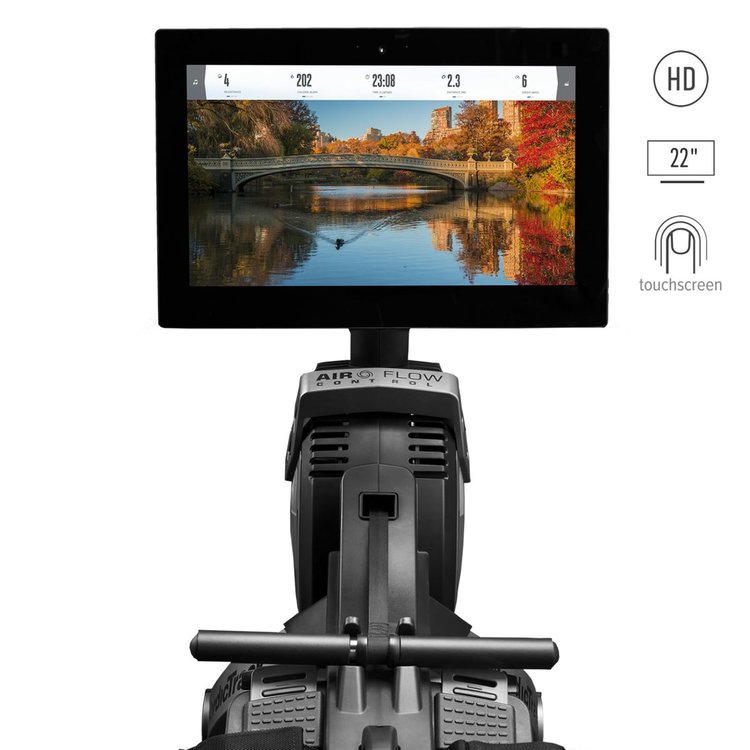 Magnetic – air adjustable resistance
The working principle of the NordicTrack RW 900 simulator is air and magnetically adjustable resistance. The faster you paddle, the more resistance will be created. The magnets on the flywheel will allow you to further adjust the resistance (26 levels). You will be able to adjust the air resistance to 10 different levels (that is, the higher the level, the less air enters and the higher the resistance). You will feel a light breeze during your workout, which will give you extra comfort and refreshment during an intense workout.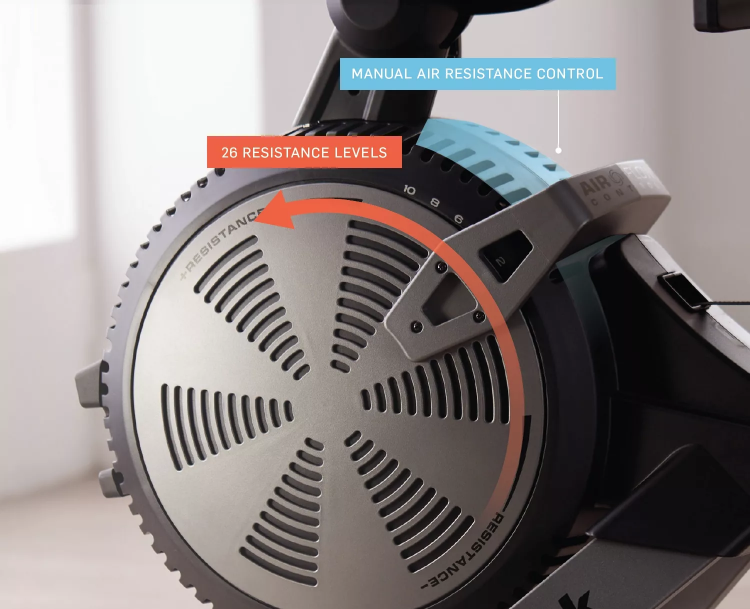 Easy to use
Sturdy stable frame, wide ergonomic seat, ergonomic foot lock pedals with adjustable nylon straps and non-slip footrests, comfortable handles, built-in speakers – all these are integral to the comfort of the comfortable NordicTrack RW 900 rowing machine.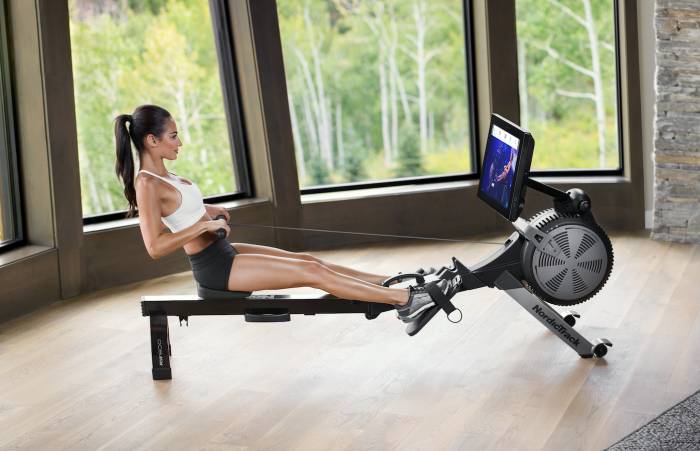 Resistance rail
The resistance rail is very important for the quality of the exercise. NordicTrack RW 900 quality rail gives the trainer longevity and quieter operation.
SpaceSaver ® design
The patented Space Saver system allows the trainer frame to be folded and locked comfortably, safely. Therefore, the trainer is perfect for smaller rooms and does not take up much space. NordicTrack RW 900 is easily and conveniently transported with the help of special wheels.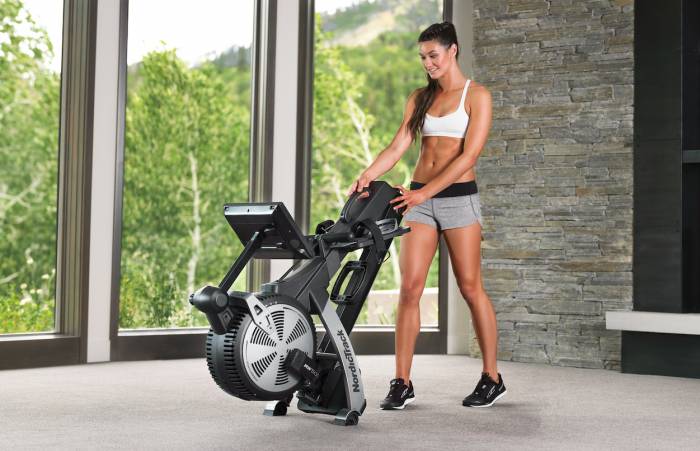 iFit ® Coach is an interactive training platform
The NordicTrack RW 900 is compatible with the iFit ® Coach (interactive personal trainer).
iFit ® is a revolutionary home fitness brand designed with the future in mind. iFit ® will provide unlimited training opportunities and will become the best helper not only in sports, but also in everyday life. This platform combines a wide selection of workout apps and devices with iFit ® , Google Maps maršr workout routes, personal workouts with the world's best trainers, interactive workouts based on your sleep, diet and activity habits, automatic statistics tracking, and more.
Workouts anywhere in the world
You will have the opportunity to travel to the most exotic countries in the world. Want to train in Hawaii today? No problem! We promise that the workout will not take you long.
An interactive trainer will be with you throughout the workout.
Possibility to use additional equipment for training
Group training just at home
Are you used to and enjoyed group workouts at the gym? No obstacles – with iFIT ® Coach you can participate in group trainings right at home.
A great and energetic coach will keep you motivated.
LIVE workouts
Live workouts – now possible with the iFIT ® Coach interactive training platform.
iFIT ® Coach always has access to a playlist of the most popular and famous songs, so you will have the opportunity to play sports with music and good mood.

Nordic Track is a thriving and evolving brand from beyond the Atlantic for more than 25 years, producing treadmills, elliptical trainers and exercise bikes with the highest quality and exclusive design. In the United States, as many as 50% of treadmills are sold by NordicTrack, and are recommended by even the most popular fitness trainers in the US!
Thanks to the iFIT ® Coach interactive training platform compatible with these trainers , you will travel the world without leaving your home, and your workouts will not last long, because they will be dynamic and super motivating, because you will train with the best trainers in the world!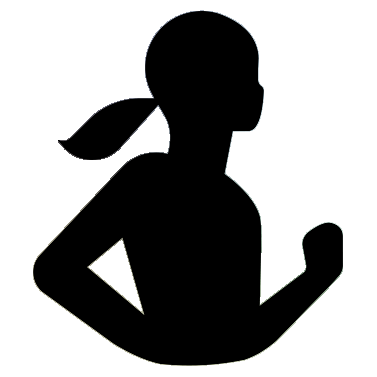 Why exercise:
Scientists have shown that at least 10 min. sports lift the mood for the whole day.
Sport strengthens the immune system . As a result, regular athletes are less likely to get sick.
Better physical fitness and well-being . Training strengthens muscles and improves the condition of joints.
Sport is a recipe for longevity . Exercise improves heart rate, strengthens bones, and cures back pain.
During sports, the human brain receives extra oxygen , which improves their health. Research in medicine only confirms the information that people become more creative, fresher, and do not sleep during their day.

The rowing machine is the most versatile type of exercise machine, which works with all possible muscles of the body, both the upper and lower parts of the body, as well as improves heart function and increases lung volume. When done correctly, it is a great cardio workout, which burns 2-3 times more calories than on a exercise bike due to the higher resistance. After 20 minutes of regular training, it is enough to achieve visible results.
TECHNICAL INFORMATION
| | |
| --- | --- |
| Warranty | 24 months |
| Maximum user weight | 130 kg |
| Transport castors | There is |
| Computer readings | Number of yolts per minute, total number of tides, time / 500m, energy generated. |
| Number of applications | Unlimited with the iFit interactive training platform |
| Foldable | Yes |
| Load control levels | 26 levels with SMR (Silent Magnetic Resistance) system; |
| Footrests | Support with adjustable loop |
| Seat | Ergonomic magnified |
| Screen | 22 "Smart HD touch screen |