Kirjeldus
| | |
| --- | --- |
| Warranty | 24 months |
| Maximum user weight | 135 kg |
| Speed | 0-22 km / h |
| Slope | There is no |
| Transport castors | There is |
| Computer readings | Speed, time, distance, calories burned and heart rate |
| Pulse measurement | Pulse sensors in the handles |
| Uphill | 0-12% |
| Engine power | 3.6 CHP |
| Foldable | Yes |
| Accessory case | Yes |
| Quick control buttons | Yes |
| Amortization | FlexSelect ™ |
| Tread surface dimensions | 51 x 152 cm |
| Screen | 14 "Smart HD touch screen |
| Trainer weight | 109 kg |
| Additional training programs | Unlimited with iFit interactive training platform (sold separately) |
Ostes NORDICTRACK T 9.5 S jooksulindi saate kauba peale 12-kuulise iFit COACH liitumise (väärtusega 129.97 eur)


TAKE YOUR WORKOUTS TO A HIGHER LEVEL!
Create a personal workout with the NordicTrack T 9.5 S treadmill or choose workouts created by famous world coaches without leaving home. This exercise bike is a great choice for those who don't have a lot of space but want to exercise comfortably at home. Due to its features and functionality, NordicTrack T 9.5 S will make your workout not only useful but also enjoyable.
Large running area
Runner's Flex ™ damping system
Convenient and functional control panel
Touch screen 14 " Smart HD
Adjustable uphill and downhill -3 – 15% Digital One Touch ®
Unlimited number of workout programs
An iFIT ® training platform is included
Bluetooth wireless connection compatible with iPod ®
Dual fan AutoBreeze ™
Space Saver system (foldable) with EasyLift lifting function
Transport castors
Adjustable hill
Exceptional uphill – exceptional results! 5 times more calories burned and the opportunity to train more different muscle groups – hips, buttocks and calves. All of this will give you an adjustable treadmill uphill. With the push of a button you can adjust it – raise it up to 15% or lower it up to -3%. During the training, the perfectly reproducible terrain of the area will provide exceptional impressions and experiences, as if you were running / walking on a real track. With iFIT ®, the uphill will adjust automatically according to the selected terrain.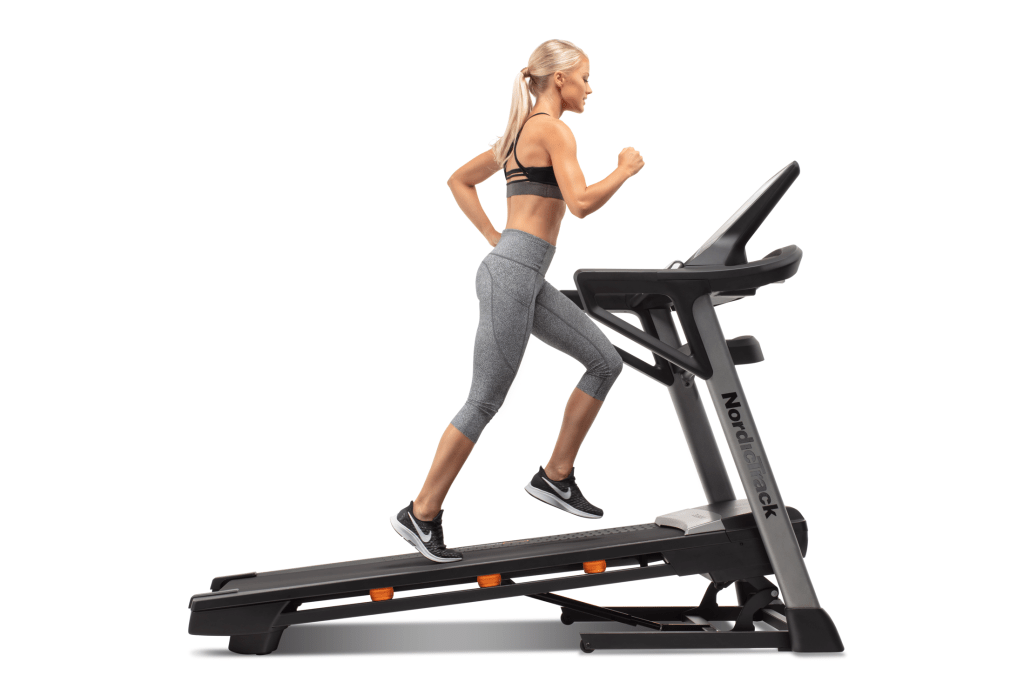 Functional screen
Extremely comfortable and functional 14 "Smart HD touch screen with an unlimited number of workouts. Large and comfortable screens are one of the exclusive features of the simulator, which are constantly improved by the manufacturer. Their goal is to make consumers feel comfortable while playing sports. On the NordicTrack T 9.5 S screen you will be able to monitor all training statistics (running speed, distance covered, calories burned), maintain a proper heart rate and use the iFIT ® interactive training platform.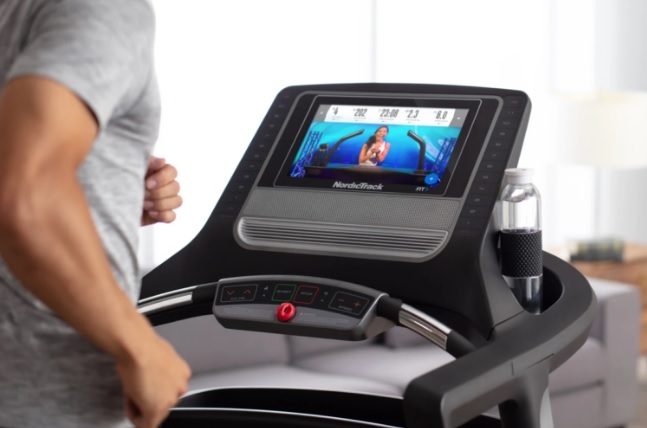 Wide treadmill
The non-slip, ultra-soft running surface of the track will ensure real running sensations. The 51 x 152 cm treadmill will allow both professional athletes and taller people with a larger stride to feel extremely comfortable. The Runner's Flex ™ cushioning system under the treadmill not only provides extra comfort, but also protects the joints and spine from overload and injuries while running.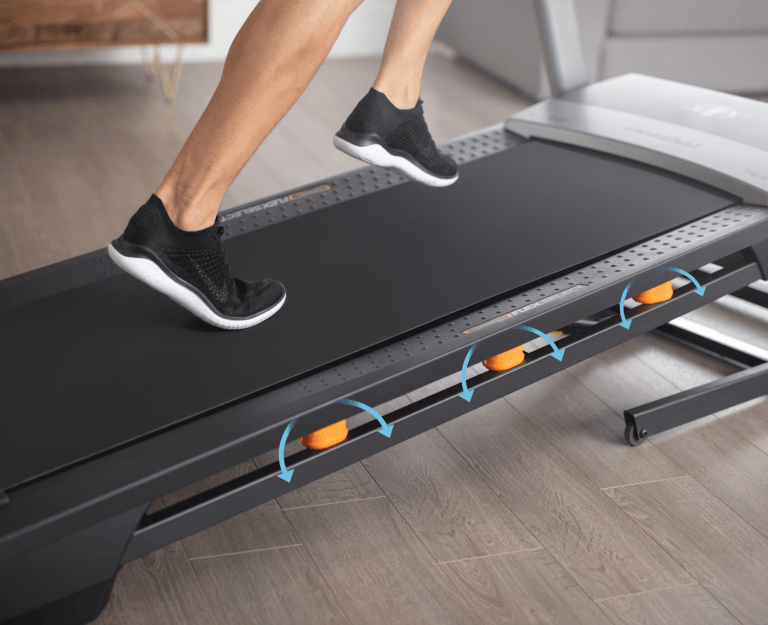 Engine and speed
The powerful 4.0 CHP treadmill engine runs quietly and smoothly, allowing a speed of 22km / h.
Extra comfort
In addition to all the listed benefits, such as a comfortable screen, a wide treadmill or a powerful motor, another advantage of the trainer is the fans, which are built into the control panel of the trainer. Two fans will allow you to freshen up and extend your workout time. And built-in speakers – enjoy your favorite music.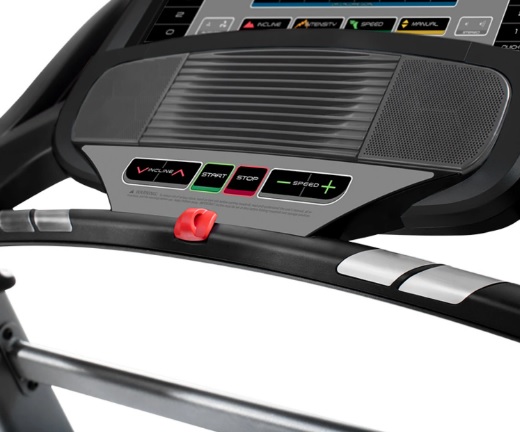 Convenient to use at home
The patented Space Saver system with EasyLift function will allow the treadmill to be folded comfortably and safely to a vertical position. The treadmill is easily and conveniently transported with the help of special wheels.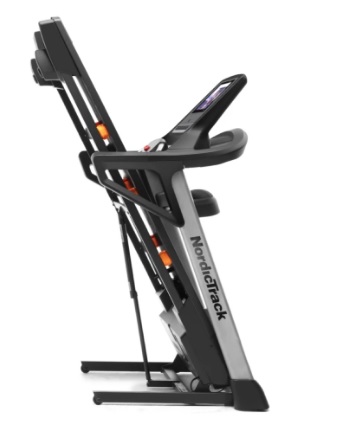 Heart activity
ECG pulse sensors built into the trainer's handles will allow you to constantly monitor and follow your heart rate during your workout.

iFIT ® Coach is an interactive training platform
The NordicTrack T 9.5 S treadmill is compatible with iFIT ® (interactive personal trainer).
iFIT ® is a revolutionary home fitness brand looking to the future. iFIT ® will provide unlimited training opportunities and become the best helper not only in sports, but also in everyday life. This platform combines a wide selection of training programs and devices with iFIT ® , Google Maps ™ training routes, personal training with the world's best trainers, interactive training based on your sleep, nutrition and activity habits, automatic statistics tracking and many other options.
Workouts anywhere in the world
You will have the opportunity to travel to the most exotic countries in the world. Want to run in Hawaii today? No problem! We promise that running will not take you long.
An interactive trainer will be with you throughout the workout.
Possibility to use additional equipment for training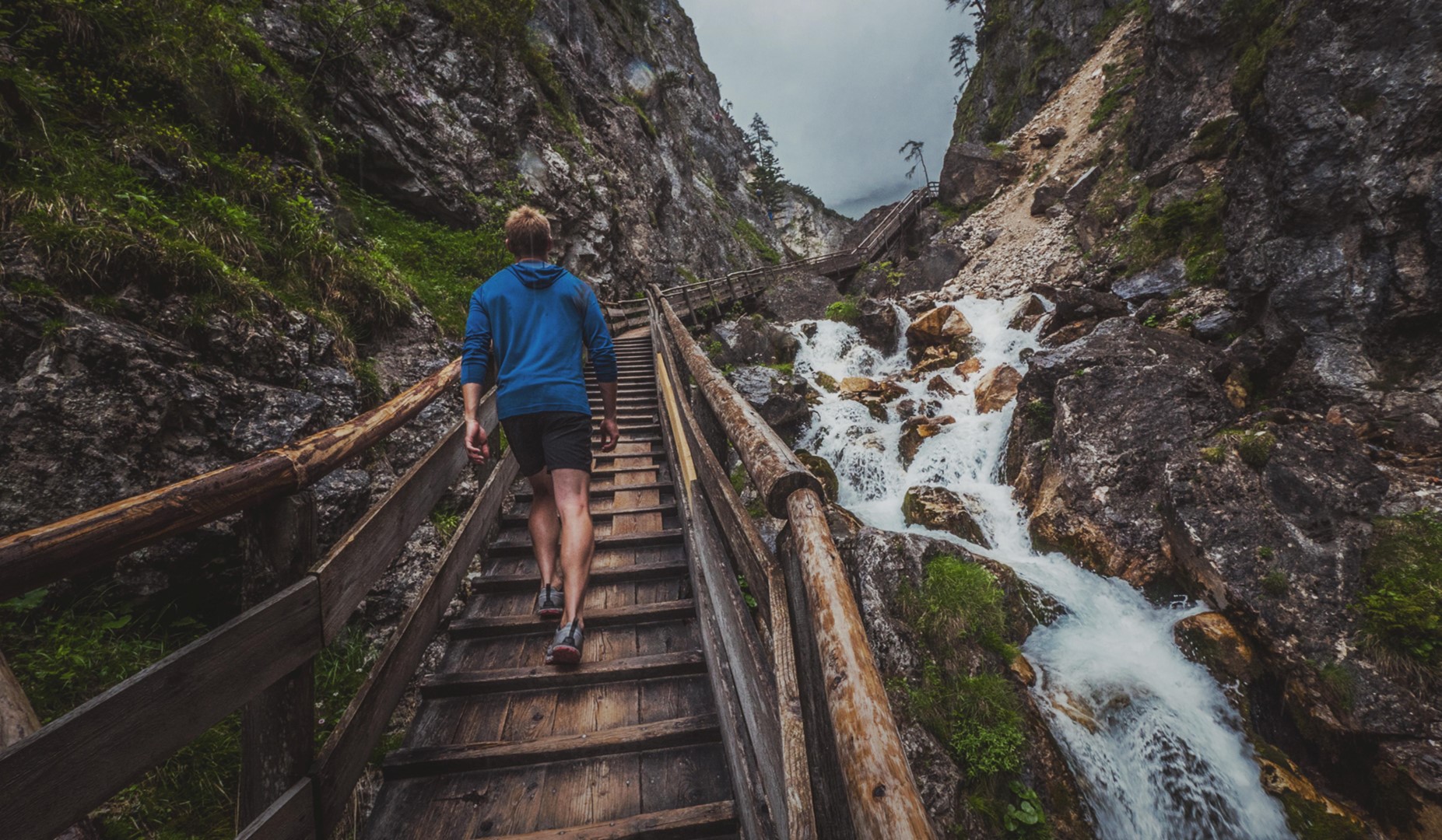 Group training just at home
Are you used to and enjoyed group workouts at the gym? No obstacles – with iFIT ® Coach you can participate in group trainings right at home.
A great and energetic coach will keep you motivated.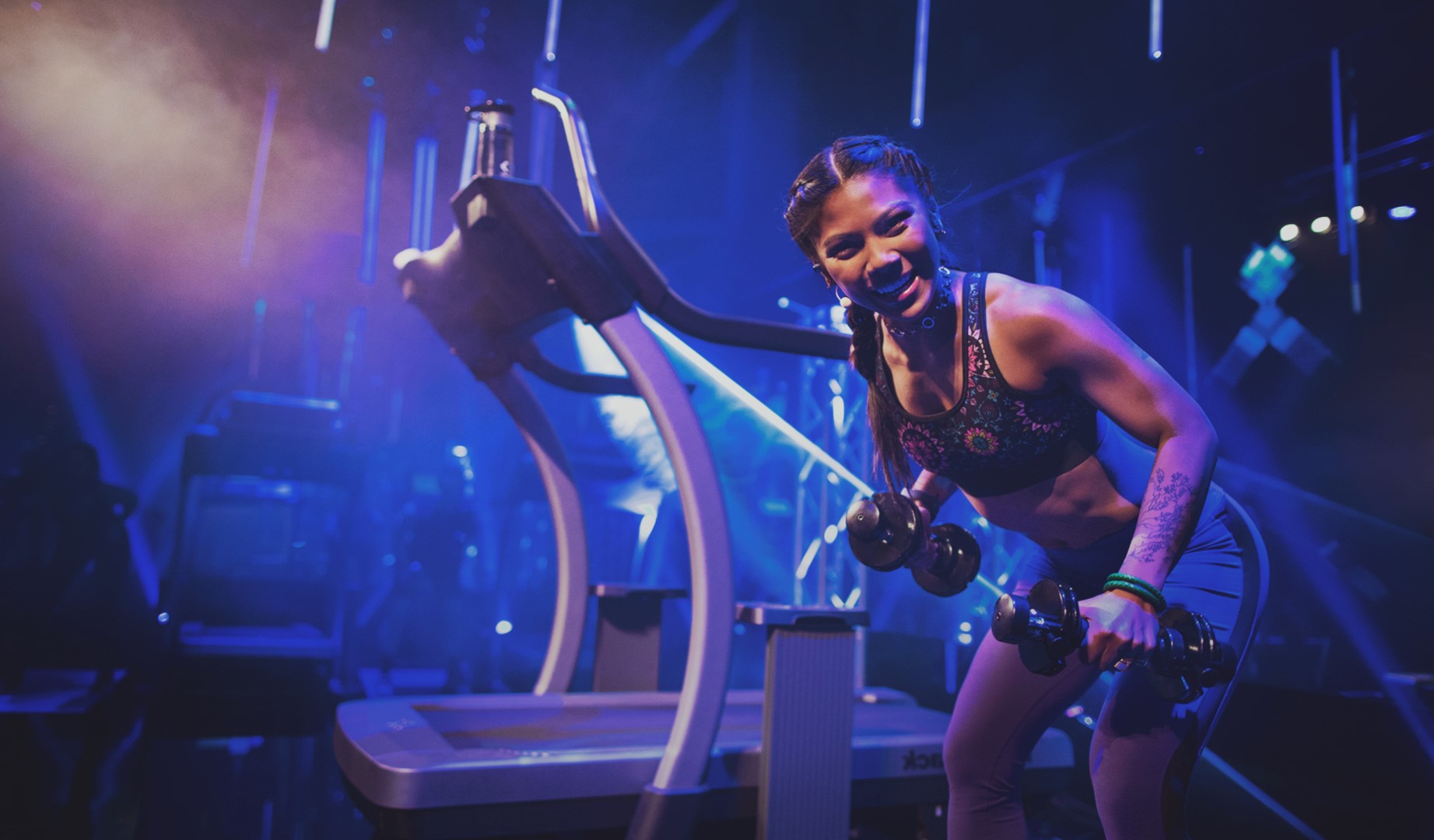 LIVE workouts
Live workouts – now possible with the iFIT ® Coach interactive training platform.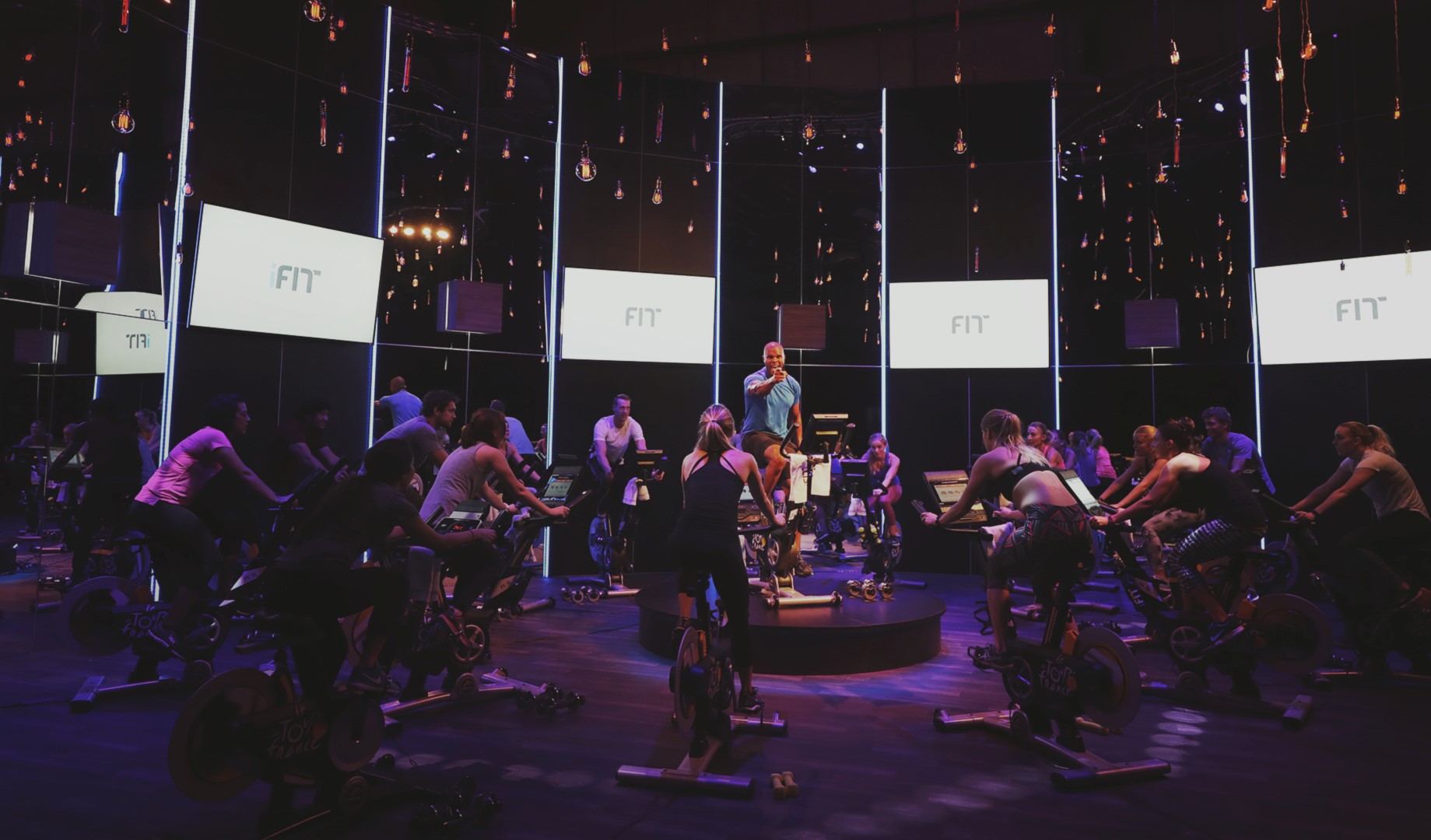 iFIT ® always has access to a playlist of the most popular and famous songs, so you will have the opportunity to play sports with music and good mood.

Nordic Track is a thriving and evolving brand from beyond the Atlantic for more than 25 years, producing treadmills, elliptical trainers and exercise bikes with the highest quality and exclusive design. In the United States, as many as 50% of treadmills are sold by NordicTrack, and are recommended by even the most popular fitness trainers in the US!
Thanks to the iFIT ® Coach interactive training platform compatible with these trainers , you will travel the world without leaving your home, and your workouts will not last long, because they will be dynamic and super motivating, because you will train with the best trainers in the world!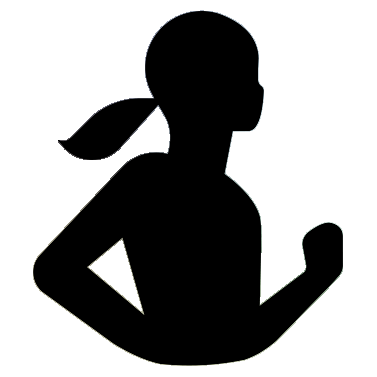 Why exercise with a treadmill
Scientists have shown that at least 10 min. sports lift the mood for the whole day.
Sport strengthens the immune system . As a result, regular athletes are less likely to get sick.
Better physical fitness and well-being . Training strengthens muscles and improves the condition of joints.
Sport is a recipe for longevity . Exercise improves heart rate, strengthens bones, and cures back pain.
During sports, the human brain receives extra oxygen , which improves its activity. Medical research only confirms the information that people are becoming more creative, fresher, not taking a nap during their day.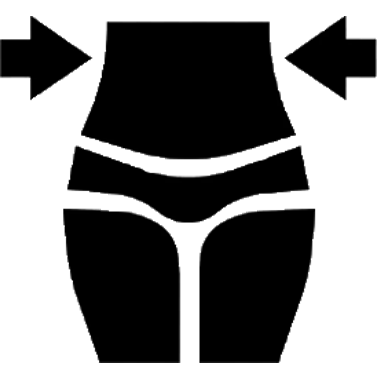 Effective fat burning
Cardio workouts with a treadmill are an effective way to get rid of unnecessary fat. Over time, the load is distributed across all muscle groups, and due to increased breathing and heart rate, metabolism is activated and fat is burned much faster. In addition, running forms beautiful and firm legs.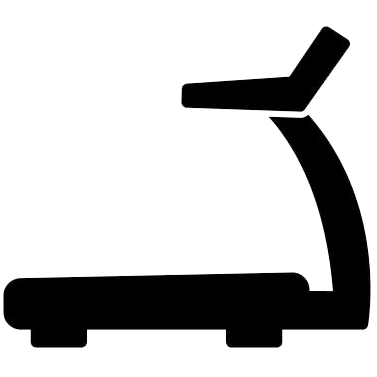 The treadmill would win popularity competitions and there are good reasons for that. It is the most calorie burning exercise machine. With intense walking, you will lose 100 calories in 1.5 km.
It is also convenient for individualizing the intensity: the speed is regulated from slow walking to fast running, the loads can also be increased by choosing hills of different heights.