Kirjeldus
| | |
| --- | --- |
| Warranty | 24 months |
| Maximum user weight | 125 kg |
| Speed | 0-22 km / h |
| Slope | There is no |
| Transport castors | There is |
| Pulse measurement | Pulse sensors in the handles |
| Uphill | 0-12% |
| Engine power | 3 CHP |
| Foldable | Yes |
| Accessory case | Yes |
| Quick control buttons | Yes |
| Amortization | FlexSelect ™ |
| Tread surface dimensions | 51 x 152 cm |
| Screen | 7 "Smart HD touch screen |
| Trainer weight | 98 kg |
| Additional training programs | Unlimited with iFit interactive training platform (sold separately) |
Ostes jooksulindi NordicTrack S 40, saate lisaks kaasa iFit virtuaalse treeningpaketi aastaks (5 kasutajat).
Paketi väärtus on 350 eur.
https://www.nordictrack.co.uk/ifit-coach
With iFit ® can choosing a Google Maps ™ training paths, personal training sessions with the world's best coaches or interactive training sessions according to your preferences. You can read more about iFit here

UPDATED APPROACH TO HOME EXERCISE EQUIPMENT!
Create a personal workout with the NordicTrack S 40 treadmill or choose workouts created by famous world coaches without leaving home. This exercise bike is a great choice for those who don't have a lot of space but want to exercise comfortably at home. Due to its features and functionality, NordicTrack S 40 will make your workout not only useful but also enjoyable.
Large running area
FlexSelect ™ damping system
Convenient and functional control panel
7 " touch screen
Adjustable uphill 12%
Unlimited number of workout programs
An iFit ® training platform is included
Space Saver system (foldable) with EasyLift lifting function
Transport castors
Adjustable hill
Even more calories burned and the ability to train more different muscle groups – hips, buttocks and calves. All this will give you an adjustable treadmill uphill. You can increase it to 12% at the touch of a button . With the iFit ® Coach, the perfectly reproducible terrain of the terrain during the workout will provide exceptional impressions and experiences, as if you were running / walking on a real track.
Functional control panel and display
Extremely comfortable and functional 7 "screen with an unlimited number of workouts. On the NordicTrack S 40 screen you will be able to monitor all your training statistics (running speed, distance covered, calories burned), maintain a good heart rate and use the iFit ® Coach interactive training platform.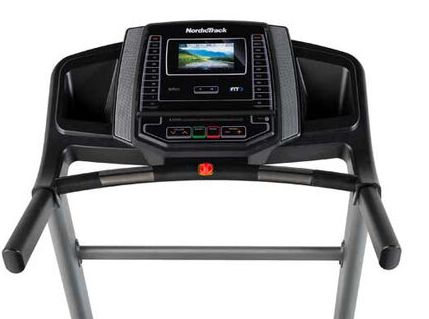 Wide treadmill
The non-slip, ultra-soft running surface of the track will ensure real running sensations. The 51 x 152 cm treadmill will allow both professional athletes and taller people with a larger stride to feel extremely comfortable. The FlexSelect ™ cushioning system under the treadmill not only provides extra comfort, but also protects the joints and spine from overload and injuries while running.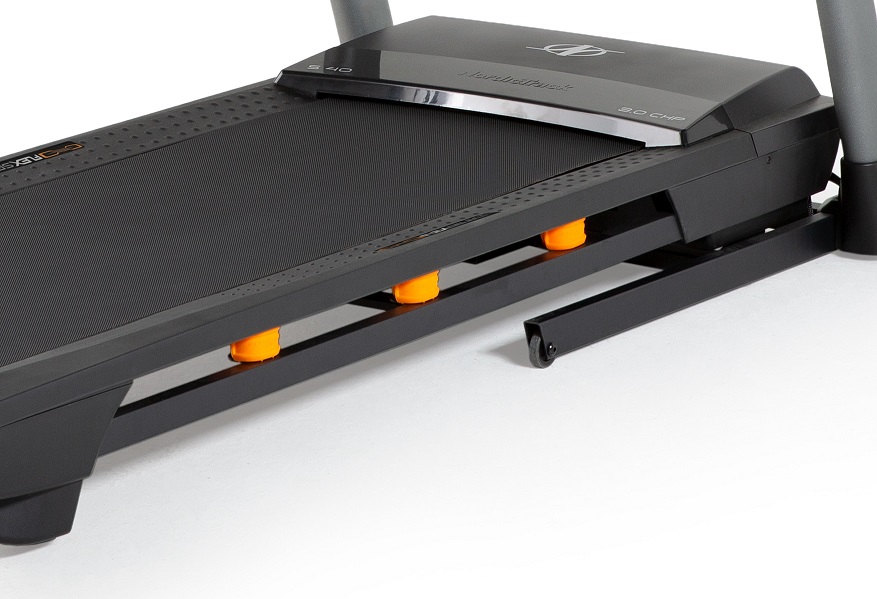 Engine and speed
The powerful 3.0 CHP treadmill engine runs quietly and smoothly, allowing a speed of 22km / h.
Extra comfort
In addition to all the listed advantages, such as a comfortable screen, a wide treadmill or a powerful engine, another advantage of the trainer – built-in even 2 speakers will allow you to enjoy your favorite music. There are integrated storage compartments for items and a drinker on the sides.
Convenient to use at home
The patented Space Saver su system with EasyLift ™ lifting function will allow the treadmill to be folded comfortably and safely to a vertical position. The treadmill is easily and conveniently transported with the help of special wheels.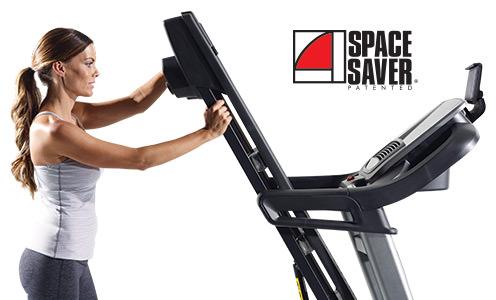 Heart activity
ECG pulse sensors built into the trainer's handles will allow you to constantly monitor and follow your heart rate during your workout.